Towards celebrating Amazons in Medicine and learning from their journey, tales of trials and triumph, the MWAN Lagos Editorial team and Medical Mirror correspondent met up with Dr. Ngozi Onyia, a trailblazer in medical private practice, especially during the peak of the COVID-19 pandemic. Below are excerpts from her interview, where she shared her experiences and secret to a successful and sustainable private practice in Nigeria today.
Correspondents: Dr. Yetunde Ayo-Oyalowo, Dr. Omolara Odunsi, Dr. Ire Adeleye, Dr. Salamah Junaid and Dr. Mary Agoyi-Awoniyi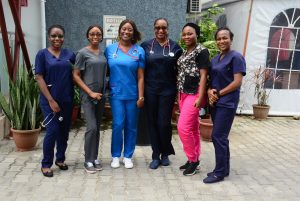 Q: Many of us read about your efforts during and after the COVID-19 pandemic, also coupled with the fact that Paelon sits as a hospital that a lot of young doctors want to come and work in… So, how did the journey start? what was growing up like for you, how did you venture into medicine, and what was your journey like from medical school till?
Dr. Onyia: Let me start by saying thank you for considering me newsworthy. I'm always happy to tell my story. My Dad was a doctor, and I was his favorite child, probably he knew I hoped to become a doctor too. My dad was my hero, I think everybody's dad is their first hero, so I wanted to be like him. So much so that, when I applied to the university following my Higher School Certificate (HSC) – this was pre-JAMB, I applied to both the universities of Ibadan and Lagos – my first, second and third choices of course was medicine. For me, it was medicine or nothing. The plan was if I didn't get admitted on my first trial, I would repeat and try again. Thankfully, I was admitted by both schools. However, since University of Ibadan (UI) admission came earlier than that of Lagos, I had already settled in UI before the Lagos admission came and since some of my secondary school mates were also in UI, I was quite happy there. I had no regrets, as I am happy I went to UI.
My childhood was a very happy one. My mum was a teacher in the same school I attended so I drove with her to school and back. I was the middle child of three children, with an older sister and a younger brother. My father worked first, for the western region until the mid-western region was created and then we moved to the mid-western region. At the outbreak of the Nigerian Civil war, since my father was a strong believer of the Biafra cause, we went over to the eastern side of the war for 30 months. I was 7 years old when the war started and 10 when it ended, so I have quite vivid memories of the war. At the end of war, I came for secondary school in Lagos – Queens' College, Yaba – where I was for 7 years, where I did my West African School Certificate (WASC) and HSC exams in 1975 and 1977 respectively before going to UI in September 1977.
I did my house job in University of Benin Teaching Hospital (UBTH) from June 1982 – June 1983, and it is important to mention that I was an active member of the Christian Union in medical school – The Ibadan Varsity Christian Union (IVCU). The IVCU left a strong impression on me because a lot of my values and drive comes first from my dad and then, my faith. In that order because my dad was "my dad" before I became a Christian at 18; I am still a Christian, very committed although not as fundamentalist in my practice as I was in my younger years. On the evening our results were released, we held our induction ceremony held by the College of Medicine. This was followed by a "commissioning" ceremony by the members of the UCH fellowship of IVCU. This ceremony was done by the laying on of hands and we were sent forth as "co—laborers with Christ in the ministry of healing". For me, medicine is much more than my profession: It is my vocation, my calling. Several of my contemporaries in the IVCU went on to become Pastors after graduation. People like the late Pastor Bimbo Odukoya, but I was never tempted – not even once – to join the pastoral ministry because for me, medicine was my full time ministry. Always have been, always will be.
I remember at the outset of the COVID pandemic, when most healthcare practitioners in Lagos were shying away from it, a dear "daughter" asked me if I was going to be involved in the response to the pandemic. Without hesitation, I answered in the affirmative. She acknowledged that was what she expected and said, "Mom, it's your pulpit, Preach it." No one who knows me would be surprised by my stance.
After house job in UBTH, I did my youth service in NITEL. I got married at the end of my youth service and stayed on after my service year as I started raising a family, had two children. My Dad who had given up his opportunity to specialize because of family commitments made it clear to me that specializing for me was not optional. So much that, as he handed me over to my groom at the altar on my wedding day, he kept repeating, "she must specialize", It was non-negotiable. In 1989, when my second child was two, I thought it was time to start my residency program. Since there was an embargo on jobs in Lagos University Teaching Hospital (LUTH), I went to UBTH where they were happy to take me back and started my residency in paediatrics. Paediatrics was the one course I came close to getting a reference in (a question on snake bites at the viva). Maybe that was the attraction for me or maybe it was also simply my love for children. At 61, I'm still quite very child-like in several ways. You can tell with my big teddy bear on my examination couch (laughs). I passed my primaries in UBTH at my first attempt, and then I went over to LUTH the next year – where I first started as a supernumerary staff, then got converted later to a paid staff the following year, as moving to Benin entailed separation from my husband who ran a business in Lagos. I was in LUTH from 1991-1995.
The birth of my daughter Patricia – in whose memory this hospital was established – was a defining moment in my life. I reference my life as "before and after Patricia was born".  A friend of mine shared these two principles with me recently – 1.  "Life is not fair" and 2. "Expect the unexpected". Before Patricia I did not expect the unexpected and life has been a bit too fair to me. The biggest challenge I think I faced before her birth was having to write my part 1 exam thrice. I passed at the 3rd attempt. It was a big deal then because that was the first time, I was failing an exam and had to repeat, but looking back now, what did I expect?… I was a young mother of two children.
Patricia birth was life defining, because here I was, a senior registrar in paediatrics with a child who had an exceedingly rare syndrome – The Charge Syndrome. I was a Christian, had faith and expecting life to be good, you know. This shook me a lot and I probably spent 20years of my life after that in depression without recognizing it. However, I did what I always do when I face a challenge; I complain, whine, get angry, but I get on with it. She lived for 9 years, and in 9 years she had 5 surgeries; First two in the United Kingdom, third in Nigeria, the last two in South Africa and she died as a complication of the third surgery she had done 8 years before. It was a procedure called "fundoplication" to prevent reflux and was the only one done in Nigeria for her. She developed multiple adhesions from that surgery and had a bowel infarct 8 years later. I don't think her death was as challenging as her birth. Her birth prepared me for her death and all subsequent hard knocks life would give me.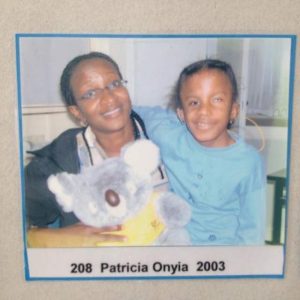 This picture was taken after she had an eye implant to replace her micro-ophthalmic eye. It was done in September/October, and she died in November. At this point she seemed to have overcome her life-threatening anomalies and we thought she was here for the long haul. Her death came as a rude shock, but God is sovereign. During her lifetime, I became the patient, seeking healthcare I remember how I was treated in the UK, here in Nigeria and in South Africa, I knew the things I liked and things I did not like. I also need to mention that my dad ran the first private hospital in my hometown, and I did my first vacation job as a receptionist in that hospital when I was 14 or 15. My salary for this job was a Jackson 5 LP.  I admired the fact that he had his practice, and I admired the fact that he made an impact on the lives of people around him. Growing up as a child, all I needed to say was "I am Dr Ogeah's daughter", and I would be well received. I always knew that someday, I would have my own practice.
I left LUTH in 1995 without completing my fellowship as my time was up and I returned to my previous employers, NITEL. In 1998, in partnership with another colleague, we established Apex Medical Centre in the NAPEX complex on the then Eleke Crescent (now Walter Carrington Crescent, Victoria Island). Though the practice thrived, the partnership failed. My partner went on to establish and run a highly successful practice, unfortunately she passed away a couple of years ago. I Left NITEL and went to work for Nigerian Breweries as the Company Medical Adviser. It was a well-paid job and as the mother of an expensive child like Patricia, I needed a well-paid job. She had expensive special needs; her hearing aids alone at that time cost 75,000 NGN and I earned 5,000 NGN in LUTH. All she needed to do was get angry and she would smash the hearing aids and that happened quite a few times. NITEL didn't pay a high salary but provided very generous cover for the healthcare of their employees, including medical evacuation or care overseas if necessary.
My years in Nigerian Breweries (NBPlc) were my greatest years of growth and development; professionally and personally. I became a manager of people and resources. As you may know, NBPlc is an operating company of Heineken – the Brewing giant. Heineken had a big medical department (Heineken Health Affairs) and I was directly supervised from the Netherlands, therefore got exposed to healthcare of the highest quality. Consequently, Medical Services of NBPlc is top notch and is currently headed by another female paediatrician, a medical woman.
My two surviving children graduated in 2009, so my need for money reduced substantially and it was now time to live my dreams. I started feeling restless and wondering what I was doing in a brewery as a paediatrician. So, after 10 years (2000-2010), I knew it was time to leave Nigerian Breweries. I attended the Annual General and Scientific Meeting (AGSM) of the West African College of Physicians in Monrovia, Liberia in November, 2009 and the Doctor responsible for rebuilding healthcare in Liberia appealed to the college to send a Paediatrician to help look after the children of Liberia, as there wasn't a single Paediatrician in Liberia at the time. I heard this as a 'Macedonian call' and decided to resign in 2010 from NB and go to Monrovia. I left the conference early and I recall sitting beside Olorogun Dr. Sonny Kuku of EKO Hospital. I remember telling him my plan. Surprisingly, he did not express any outrage but understood perfectly my need for purpose in my life. On my return, I went to the then Human Resource Director and asked to be made redundant the following year (a well-established HR practice to bring in new blood and refresh the system). When I convinced him it was what I wanted, he conceded. However, due to a change in email address, all my mails to the Liberian doctor were not replied. I discovered this the following year when I met her in Freetown, Sierra Leone at the next AGSM the following year.
In the 2nd week of February, the HRD invite me to his office to hand me my severance pay cheque. He asked for the umpteenth time if I had received a response from Monrovia and I said I hadn't, he advised that if I didn't get a response, I could use my severance pay to set up a small GP practice in VI or Ikoyi targeting the expatriates, using the Heineken expats as my base; seeing as I already had a relationship with them. This was how the seed of the "Paelon" idea was sown in my head. Despite being a paediatrician, a lot of my previous practice had been in primary care – both in NITEL and NBPLc. One day, on my way to NBPlc, during my handover period, as part of being "mindful", I veered off my usual route and drove past 5 nice bungalows on the serene Musa Yar'adua Street in VI. One phone call to the advertised agent and by March 22nd, 2010, I paid two years rent for the smallest of them and as they say, the rest is history. When I ran into the Liberian doctor at the 2010 AGSM in November and she explained why my mails went unreplied, I accepted that it was not meant to be, and told her, "Maybe someday, I had invested all I had in a practice".
In 2005, NBPlc had started a formal mentoring program to reduce the high turnover of the management trainees who had been selected following a rigorous and expensive process. I was selected as a mentor, and we went for a formal training in the Ibadan Brewery training centre. The training was facilitated by the Lagos Business School (LBS); lots of concepts and ideas that sounded strange to me were taught. Ideas that sounded like "sucking up to people" and to me as a "Queen's College Old Girl" (QCOG) those concepts were totally against my natural inclination. Emotional Intelligence, Working Smart etc. So during lunch, I chatted with Bunmi nee Okediji, one of the facilitators and a QCOG herself, and asked her if she espoused those ideas. She replied in the affirmative and told me that to do otherwise, would be to live an unnecessarily hard life. This set me thinking and eventually led to me registering for an Executive MBA (EMBA) in LBS after making necessary enquires. When I started the course, everyone thought it was a bit crazy because I was already 45/46, in fact my classmates in LBS called me "eldest" because some of my classmates were 28year olds. However, I continued and graduated in 2008.
An MBA is a paradigm shifting, life changing program and I recommend it highly to any young person. Most of my MBA classmates have gone on to become giants in their own fields, doing new things, differentiating their products and services. An MBA creates a hunger in you; you see opportunities all around and it opens a new vista of possibilities to one. Business is about filling gap, meeting needs; suddenly, all you see are gaps to be filled… needs to be met. The MBA arms you with skills to fill the gaps and meet the needs.
Another life changing event occurred in 2008, after my final exams but before I graduated. In April, I suffered from a brain hemorrhage – a ruptured aneurysm. Sometimes, when I tell this story l say "before I died" and then I remember I did not die but it was a near death experience. As, I was dropping to the floor on that fateful day in church, I thought I was dying, so I said my last prayers to make my peace with God, expressed gratitude for some recent occurrences and expressed regrets for some unfulfilled expectations. Statistics show that 90% of people who suffer from a ruptured aneurysm would die before they hit the ground, another 9% will suffer severe neurological sequelae and only 1% will come out unscathed like I did. I felt there was a purpose for God sparing my life, and all the events I have talked about have led me to where I am today. They were my path, the crucible I passed through.
One day in 2010, a friend and colleague, Dr Adeyemi Bero, MD of Roding Medical Centre, God bless him, stopped by in Paelon on his way to the Metropolitan Club.  He met me twiddling my thumbs and waiting for patients that didn't come. He said to me in Pidgin English, "Ngozi hungry go catch you o, you better find some locums to do". He offered me work for one day of the week and paid what I asked. I knew he did not really need my services but was trying to put some money in my pocket in the most dignified way he could think. This spurred me on to reach out to others. Next was Dr. Dapo Majekodunmi, MD of St. Nicholas Hospital, he also offered me one day a week. Consolidated Breweries, a sister company to NBPlc also offered me a contract job as medical adviser, and my friends in Chevron also gave me a chance to do locums there when they needed one. Between these four organizations, I was able to pay my staff and stay aloft.
Also, the wife of my ex-boss in NBPlc, Dr. Nnenna Mbonu, on their return from expatriation in Freetown came in and offered to volunteer with Paelon as her way of re-integrating into the Nigerian Healthcare system. This was a blessing as it gave me the flexibility to do my locums and earn money to fund the practice. The following year, I invited her to partner with me in the practice and she gladly accepted. She stepped down at the end of last year on the grounds of her age but her husband, Dr John Mbonu, my erstwhile boss in NBPlc is currently the chairman of the governing board of Paelon Memorial Hospital. They have been a blessing to me and the organization. I also invited a gynaecologist to join the partnership. She had been a visiting consultant to see my gynae patients and she also gladly joined the partnership. Likewise, Mrs. Unoma Grant (who had started the practice with me from day one as an employee) was made a partner too. Slowly a few others joined, like Dr. Lekan Olaleye, Dr. Michael Talabi, Dr. Sylvia Cole and Dr. Nkeiru Asumah. Now, we are a robust group practice.
The concept of synergy is one of my significant learnings from business school. Which is the cooperation of two or more individuals/organizations leading to a combined effect that is greater than the sum of their separate effects. Paelon was formally opened on my 50th birthday, July 9, 2010, so I realized ab initio that I didn't have that many more active years. Therefore, I started taking younger partners to ensure continuity and sustainability. My dream was to build an enduring legacy – an institution that will outlive me.
Q: Wow! This is a mini business school… you touched on a lot of things that are critical and pertains to the medical business, especially the last point on partnership. On platforms like the association of general medical practitioners, the bell is being rung daily reinforcing private practice owners to get younger partners, so they can rest. However, people are still refusing to and hospitals are closing down, so I think you are magnanimous, and your heart is large. But how did it work for you?
Dr. Onyia: Really, partnerships are difficult but if you see a big picture, it's worth it – just like marriage. Unfortunately, after 35 years my marriage ended; not because anyone died but because we chose to go our separate ways. Given a chance, even at 61, I would remarry. I will not give up on the institution of marriage because of a failed marriage. I mentioned earlier that one of my partners left and the separation was a bit acrimonious, but it didn't discourage me. I just felt it didn't work with this person, it might work with another person, and I tried. Recognizing that I am not perfect, and I cannot expect perfection from others. So, we compromise, we accommodate, and we get on with it. With mutual respect, we recognize each other's strengths and build on them, we try to mitigate each other's weaknesses. I don't shy away from confrontations and disagreements – they are inevitable in partnerships.
There are four stages teambuilding. 'Forming' – that is coming together; then second is 'Storming' when you rub off each other wrongly. It is an essential part of teaming and must never be skipped and you must storm. Most people try to by-pass this stage, they just walk on eggshells around one another. Eventually, it doesn't work because you are sweeping things under the carpet; these things hatch and come back to bite you. Molehills become mountains under the carpet. Storming should not be shied away from. It should not be personal and must always be based on principles, values and to protect the organization The organization is superior to any one individual. Some 'storms' will result in separation, but then, c'est la vie. When the storming is over, people find ways of working together, 'Norming' and then finally, they learn, they grow, they develop and 'Perform' together. Now, we have a high performing team for which I am truly thankful.
Also, I think what you call magnanimity is actually "enlightened self-interest". I realized I was an old woman when I was starting off, I mean, my father ran a practice, where is it today? He ran it from 1972 and by 1996 he was tired and burnt out because it was a one-man practice. He simply closed it down, converted the building to apartment blocks, rented it out and lived off the rents. That was not my dream. I don't even own the property we occupy.  I also wanted to have a life, to be able to go on vacation and the practice is going on without me.  My Dad's practice was his life. Thank God, slowly after 11 years, I am at the point where I don't come to work every day. For the first 8-9 years, I used to work almost every day. One Sunday, an expat lady visiting the hospital saw me and asked me if "it was not good at home". She had observed I was always at work. Now, I have more balance in my life. I don't work weekends and the practice goes on. I am accessible by phone 24/7 and will come in when I need to even at 3 am. I am very actively involved in running the practice wherever I am but I'm not physically present all the time as I used to be. So, it is "enlightened self-interest" and doing otherwise will ensure that the practice – like the proverbial Grandfather's clock – will stop short never to go again when the old man dies.
Q: As a female medical director with a thriving business in medicine, how do you think women participation affects the business of medicine and private practice? And do you think more women need to venture into this?
Dr. Onyia: At the risk of sounding "sexist", I think women tend to do everything better in life. A colleague once said to me that he finds two women inspiring, Dr. Efunbo Dosekun, MD Outreach Children's Hospital and myself.  I pointed out that we both had quite a few things in common. Firstly, we are both women, obviously; secondly, both paediatricians; thirdly, we are both mothers of special needs children and finally, we had both lost children. Those kind of life events shape you into a type of person – bold, daring, focused, not attached to things. I am proud to be mentioned in the same breath as her. Dr. Biodun Aluko, MD of Premier Hospital also shares these life experiences and attributes with us. In answer to your question, women can and are making a difference.
Wherever you find women in practice, those practices tend to stand out. We are the mothers of the society, we are the ones to uphold the values of the society, we are the more selfless of the genders and we are intuitive.
Q: We know a lot of young colleagues working here and are very happy. Which is a very uncommon thing to see medical officers been happy at all times and excited to come to work, and when we discuss, they speak highly of you and their place of work. One begin to wish "maybe I should leave my work place and come to work in this place". So we'd like to know the secrets behind keeping your staff in the health care industry – which is not a common sight – very happy and productive at the same time.
Dr. Onyia: Thank you very much for your kind words. One of the most satisfying aspects of my work is hearing the happy chatter of my younger colleagues as they resume work in the morning. They are more engaged, avid learners with great sense of ownership.  I am very happy with the people who work here. Most of the examples you stated are a lot younger than my children, so I treat them more like my children because they are more in the age-group of my daughter who died. So, I don't treat them like just employees, but rather we are like a family here. Another thing to realize is that this is a "service industry"; I don't care how many equipment we have, it is the people who make the practice. You can have the most expensive and advanced technology but if you have the wrong people, you don't have a practice. If you have the the right people even without technology, you can have a solid practice. My father had nothing in his practice, yet he made all the difference in his time. If you take care of your people, they will take care of the patients, but if you don't take care of your people, you will have disgruntled patients. So again maybe it boils down to enlightened self-interest.
I also must give a lot of credit to my fundamental Christian origin, as I don't care too much about people's opinion of me because the only opinion that matters to me is GOD's. I believe that if God has already seen what I've done, I don't care who else does. I think it's the fear of GOD – and I believe that someday, everyone will account for what they have done. I try to do right by everyone. I try, I don't always succeed but I try very hard. The culture is derived right from the top, so because that's my culture, it becomes the culture of everybody here; they are all happy with each other, they all play with each other. We also do a lot of things together. We give recognitions and a sense of family; we celebrate birthdays, we put the person's picture as profile for the whole day and we do parties and dance with one another. It is a very relaxed atmosphere and not very strict and formal with each other.
Also I think "leadership from the front and the back" is very important, what I mean is that, I remember when the COVID pandemic hit Nigeria, although it is not the question you asked but it's a story worth sharing. At the beginning of the pandemic, in March 2020, I thought about the Ebola experience and all we learnt about infection prevention and control. I saw the posturing of some of our colleagues and I knew I was not going to turn my back on my patients for any reason. Indeed, it didn't even cross my mind that I had an option. I mean, we were an existing practice, were we going to turn down our patients if they came to the hospital because they had COVID? Definitely not.
I called a meeting of all the staff and said "I am sure you all know you are going to treat COVID" they all said yes, so I said "Is there anybody here that is afraid?" I read the story of Gideon from the Bible and asked anyone who was afraid to opt out, three people did. I asked them to take a leave of absence, and assured them they would still have their jobs after the pandemic. To the others, I assured them I would do everything in my power to protect them and would do all I could to keep them safe. We didn't have the money, and indeed, we all took a 50% pay cut the next month, yet everyone was game and they threw themselves into it. We put up the tent downstairs as a holding bay with our meagre resources, set up a table at our entrance and stationed people to screen people coming into the hospital using questionnaires and infrared thermometers, bought PPEs- reusable hazmat suits, gloves, masks, face shields etc.
Then, God showed us unbelievable favour. In the month of April, we paid half salary, in May we paid 75% and interestingly, nobody left. That was not the first time we had pay cuts. Our cash flow was very poor for the first 9 years of our business and it was always across board. Only the lowest paid were exempt. Everything is very transparent, account department is upstairs, any staff can walk in and ask questions. To their credit, no employee has ever resigned because of pay cuts because they realized it was always a choice between letting go of some people or letting go of some salary. They always chose the latter and that had always been our practice. Everyone threw themselves in and became protective of we the older ones. My colleague – the other paediatrician – is even older than myself. Hence, as a team we worked together and we worked very well. We received a lot of donations, for example, Hygeia HMO bought us PPE and so on.
Our Ikeja facility story started with the family of my first COVID-19 patient. We took a business decision to close the Ikeja facility on April 1 2020 and consolidate all our staff in VI to conserve our scarce resources and we put out a notice to that effect. The son of my patient (she was still on admission in our ICU at the time) reached out to me, suggested I convert the facility to a COVID treatment centre and offered to help. So we created a WhatsApp group, added all willing donors and listed out our requirements that were then delivered to Ikeja. Hence, with the help of these donors, we repurposed, renovated and equipped the centre in the shortest time imaginable. It was more difficult to get the approval of Lagos State Ministry of Health but after two months, we finally got the approval. The woman's family are the owners of Sacvin. I only got to meet the Sachin (the patient's son) on the day she passed on, three weeks and 2 days after she was admitted into our ICU. Prior to her admission in Paelon, she had been ill for 13 days and could not find any hospital willing to admit her. When she died, I felt unable to continue the discussions because I felt it was immoral to do so, when we were unable to save her life. I suspect Sachin perceived this, so he reached out to me to ask about the progress of the project. His prompting gave me the impetus to continue. Our other big donor was IHS Towers. Interestingly, I only got to meet my points-man for the project, Mr Jubril Saba for the first time in June 2021 though his company had donated equipment worth tens of millions of Naira to us since May 2020.
Correspondents: Thank you so much ma, we are inspired and impressed, we all love a working facility with a beautiful environment. Ma, your hospital is very beautiful by the way.
Dr. Onyia: Thank you very much.
Q: So what are your recommendations to the government and public facilities on maintaining a working facility with a beautiful environment?
Dr. Onyia: I was going to say, "get female CMDs!" But then, that may not be fair because a great facility is the Federal Medical Center Ebute-meta and Dr. Dada, the CMD, is male. Maybe he is the exception that proves my rule because women tend to have a greater sense of aesthetics but I must concede, Dr. Dada has done a great job. I suspect his wife must be active behind the scene. Then of course, there is the issue of frame of reference. People have different backgrounds, different values and different frames of reference. These will all be reflected in the way the work, the service they provide and the infrastructure from which they operate. Some may think we are excessive and that maybe why we struggled with our cash flow for so long but there is a minimum standard I cannot go below.
Q: What is your opinion about people going into private practice, what's your recommendation and what do you think makes a standard private practice?
Dr. Onyia: Until telecommunication was privatized and subjected to market forces, telephones were the preserve of the privileged few. This can be used as an analogy, for business.  The private sector is for profit and therefore more efficient, less bureaucratic, less prone to corruption and more sustainable. Even in the U.S, a lot of those big hospitals are privately owned. Government really should be concerned with regulations, making policies and creating an enabling environment and really should live the practice to the private sector. If the operating environment is more enabling, then the cost of care will reduce. I think at the end even teaching hospitals would be privatized, to improve their efficiency. Also, I think all private practitioners should have some business knowledge. Medicine is a business, if you see the way people describe me, they say "all that woman knows is money", meanwhile I wish they can come and see my salary. Everybody is saying, "Paelon is making money" and when they see me, I'm not very impressive to look at (laughs). It is not only about making money, it is about sustainability –  if you don't bill, you can't continue to offer the service, and it is not because I want you to pay but because I need your money to keep running the business. There are huge costs involved in providing healthcare – personnel (some of the most highly skilled) technology, equipment, drugs and so on. At the start of a business, your first clients are friends and family. Imagine if one owned a supermarket and friend and family come in and take products of a shelf and walk away without paying, sure enough, the supermarket will close down in no time. What we sell is service; a costly service.  Let me also state, I pay my own bills here. Now I have health insurance, so it covers for me, but before I used to pay my bills. Also, all our staff now have insurance but before we could afford insurance for staff, everyone paid albeit a heavily discounted rate. I would recommend a management program for all would-be medical entrepreneurs. Finance is a very important management course and as much as clinicians hate to discuss money, we must know about money. So I try to push the responsibility of discussing fees to the non-clinical staff because as my daughter the Chief Operating Officer (COO) who is an engineer will say, "As soon as you hear the patient's SPO2 it becomes difficult for you to discuss money". So, I discuss the SPO2 and they discuss the money.
Q: Thanks lot for the knowledge Ma. So, we are going to less serious topics, where is your favourite vacation spot?
Dr. Onyia: Very easy, Barcelona! The other day, I got very depressed and I remembered I haven't been to Barcelona since November 2019. I used to go 4 times a year.
Q: 4 times a year! Why?
Dr. Onyia: 4 times a year because I don't take long vacations, 5-7 days is enough and I am not the "business class" type. I am happy to go on the cheapest ticket available, so I go as often as I want. It is when you are buying a 5,000-dollar ticket you have to think before you go, not when you are buying a NGN 200,000 ticket.  On "why?" First, I have a friend who lives there. Like I said, Heineken was the greatest period of my development, I developed a lot of friends across the world. So I have a Dutch friend who lives in Barcelona and she has been living there for 15 years. Every time I visit, it's a new experience. I've created some of my best memories in Barcelona. I've gone snorkeling, mountain climbing, art museums, and now she wants me to go for some yoga type of experience. The weather is clement, the ocean is beautiful and over the last 15 years, her Catalan friends have become my friend. Visiting Barcelona is like a homecoming for me.
Q: What's your favourite sport?
Dr. Onyia: I like walking, I walk 5 km almost every day. It is now an addiction. I like to swim too but I think my favourite is walking.
Q: What is your best colour?
Dr. Onyia: when I was growing up, it was red. Now, I am not so sure anymore, maybe it is blue.
Q: Oh! But we see all shades of pink in paelon and expected that would be your favourite.
Dr. Onyia: Oh I will tell you why, it's because of Patricia. Her last role in life was as a pink butterfly in a school play. From January she had been practicing the song and flying all over the house and in October they had the school play where she was dressed as the pink butterfly and then died in November. So we actually buried her in her pink butterfly outfit and that's the logo of the hospital. You will also see a lot of butterflies around.
Q: What is your idea of a female minister of health in Nigeria?
Dr. Onyia: I think Dr. Efunbo Dosekun will make a great minister or commissioner of health. I think she has the right personality for it – Intelligence Quotient, Emotional Quotient and Adversity Quotient – passion alone is not enough. To take up a political appointment, you need those to survive and navigate the slippery slopes of government and career civil servants. Women clearly excel at anything they set their hearts to, Mrs. Okonjo-Iweala is a good case in point. I lack emotional intelligence so I know an appointment will only be setting myself up for a big fall. I will step on toes with my outspoken, assertive and aggressive Ibo way (laughs). Efunbo is also outspoken but she is Yoruba and I think tribe matters. Yorubas are a lot more emotionally intelligent than the Ibos – It's cultural.  I had a Yoruba mother if you notice and I don't think her genes came out very strong in me, physically yes but not character wise. I am very Ibo in my character.  Efunbo is outspoken, she is forceful, business savvy, but I think she has a lot of emotional intelligence and will make a great commissioner or minister of health. Also, we should be pushing for a female president! Why not?
Resigning from my high paying job and coming to venture meant that I had to adjust my spending habits. I got used to a more modest lifestyle that was probably more fulfilling. Experiences things rather than buy things. Like Saint Paul, I have learnt both to abound and abase. If I have money I will buy designers, if I don't have, I will buy "El-Cheapo"…- Dr. Ngozi Onyia
Q: What is your best song?
Dr. Onyia: I have so many but my best gospel song will be "10,000 reasons, bless the Lord o my soul". My best contemporary song will be "One moment in time" by Whitney Houston… Also, maybe Frank Sinatra's "my way" because I think all the three songs speak to my life.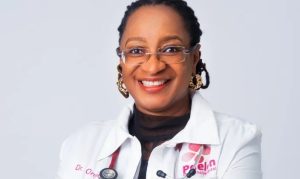 About Dr. Onyia:
FRANCES NGOZI OLAYINKA ONYIA (Nee OGEAH) MBBS, FWACP, MBA, CTH is the founder of the award winning Paelon Memorial Hospital (PMH) established in 2010 – a boutique, multispecialty hospital with three branches in Lagos and one in Delta state. A 1982 medical graduate of the University of Ibadan, Fellow of the West African College of Physicians (Paediatrics), and a Travel Health Physician, she became a medical entrepreneur after 28 years of medical practice in both the public and private healthcare sectors in Nigeria with her ten-year stint (2000-2010) as the Company Medical Adviser of Nigerian Breweries. She is a trustee of several organizations including Pharmaccess Nigeria, Society for Quality Health in Nigeria, Nigerian Society of Travel Medicine, the boys to Men Foundation, The Children Arise Foundation. She is also a member of the board of Leadway Health, member of the Paediatric Association of Nigeria of which she is the Chairman of the Audit Committee and member of the Advisory Board of the Pistis Foundation.