After almost 8 months of strike, several unsuccessful negotiations and the news of the Hon. Minister of Labour (Dr. Chris Ngige) storming out of the last negotiation meeting between the Academic Staff Union of Universities (ASUU), House of Representatives and Federal government (FG), which held on the 2nd of October: The FG via the Ministry of Labour subsequently announced the certified registration of 2 new sub-unions in the academic sector 2 days later.
Notably, one of the sub-unions announced was the Nigerian Association of Medical and Dental Academics (NAMDA). According to members of the sub-union – NAMDA, below are further details to know about the association:
MEMBERSHIP
i. Any medical doctor or dental surgeon registered with the Medical and Dental Council of Nigeria (MDCN) employed either as a full-time regular or contract staff and engages in lecturing or teaching, research or training of students at the undergraduate and postgraduate levels shall be deemed to be a member. Such a member maybe a lecturer, research fellow, medical consultant or labeled with any other title or position.
ii. No medical or dental practitioner shall be deprived of membership of the Association on grounds of sex, religious persuasion, political beliefs, ethnic origin, or grade provided they shall satisfy Article 3(i) above.
iii. Every member of the Association shall belong to a Branch of the Association established in a tertiary health and academic institution where he or she is employed or engaged for the purpose of teaching, and or training; and or research.
iv. Each new member shall be provided with a copy of the Constitution of the Association and shall be notified of all subsequent amendments thereto.
v. It shall be the individual responsibility of every member to pay his or her monthly dues or subscription to the Association regularly. He or she shall endeavour to participate fully in the affairs of the Association and refrain from acts which may bring the Association into disrepute.
vi. A member shall cease to be a member through:
a. Retirement
b. Death
c. Resignation or withdrawal from service or
d. Dismissal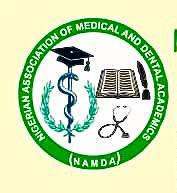 NAMDA National Secretariat: c/o Dept of Clinical Pharmacology and Therapeutics, Faculty of Basic Clinical Scienes, Univeristy of Uyo, Akwa-Ibom State, Nigeria. Contact details: 08064046040, 08036758440, 08034432075, 08130815592
EXECUTIVES
President – Dr Nosa Lancy Orhue
First Vice President – Dr Ali Mohammed Ramat
Second Vice President – Dr Ramon Moronkola
Secretary General – Dr Zakari Aliyu Suleima
Deputy Secretary General – Dr Olusegun I Olaopa
Treasurer – Dr Aniekan I Peter
Financial Secretary – Dr Uchechukwu S D Unigwe
Publicity Secretary – Dr Jubril Abdullahi
Welfare Secretary – Dr Shehu Abdrahman
Auditor 1 – Dr Fatima Zara Mairami
Auditor 2 – Dr Stanley Kenechukwu Onah
Although, NAMDA is not currently enlisted as an affiliate body to the recognised national umbrella body for medical and dental doctors in Nigeria i.e., Nigeria Medical Association (NMA).
Following this development, we sort the opinions of different stakeholders about the impact or implications of this on medical education, the academic sector and healthcare system in Nigeria as a whole. A final year medical student from the North central region, who has spent a cumulative of 8 years in medical school due to different ASUU strikes with still no graduation in sight anytime soon, expressed her hope for college of medicines finally pulling out of ASUU, as the strikes further extend their already "long time" scheduled years in medical school – which is extremely tiring, time wasting and demoralising.
Also, a medical doctor who is also an active ASUU member as a basic medical science senior lecturer in one of the tertiary institutions in the south-west region explained; There are so many bodies in Nigeria, depending on where you belong… There's a union for medical doctors in academics already i.e., Association of Specialist Medical Doctors in Academics (ASMEDA), which is a national body recognised by other bodies, especially in academics… I believe that some people who are power drunk are behind this development.
Although, NAMDA will have their members definitely and if it will benefit, one may join and be a silent member, but when all this struggle is over, we still have the same medical schools and ASUU still remains the general body
On medical students' education, I don't think this development will affect the medical students. Even if a new curriculum will be formulated it won't start with those in 200L to final year because they're already in the system. However, in all of these, medical students or their education is not priority, neither is the healthcare system. This passes across more like a tussle of relevance and power.
Acknowledgement:
Dr Shehu Abdulrahman, Member, NAMDA; Dr Olúségun Oláòpá, Deputy Secretary General, NAMDA; Dr Ime Okon, Immediate Past Secretary, NMA Lagos and the NMA Lagos Doctors Platform.