During the Afe Babalola University convocation in Ado-Ekiti on the 21th of November, 2021 – the Medical Mirror correspondent met up with the best graduating student (BGS) from the department of Medical Laboratory Science and the College of Health Sciences, ABUAD. Below are excerpts from his interview.
Hello Sir! Could you introduce yourself and tell us how you were able to graduate as the best student from your faculty?
My name is Adedeji Abimbola, a graduate from Afe Babalola University, Ado-Ekiti popularly known as ABUAD and I studied Medical Laboratory Science. Having graduated as BGS has been God's faithfulness and this I'm not shy about. But as they would say, "nothing good comes easy" and achieving great success comes with sheer will and dedication. At the early stage of gaining admission, I would say words of encouragement to myself and also words of prayer. In summary, good character, commitment, right relationships, and hard work ensured I got to where I found myself at the end of the Journey.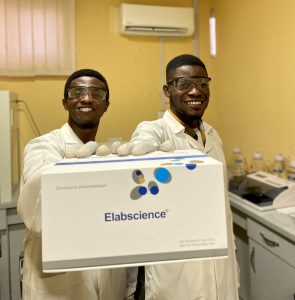 What would you say was your greatest achievement or best experience while in school?
Oh, greatest achievements… I think it would be having to acquire a lot of good knowledge within a limited time range cutting across all spheres including spiritual, academical, and in other aspects of life. Some of which, money cannot buy. On experiences, I've had a lot of good experiences also, some I can't even place a finger on right now, but surely there were breathe taking moments we had in the laboratory, with our closest of friends, with our lecturers, having access to rare facilities…. and so on, which made us better in our specialties.
Any regrets? if any, which was the greatest? Looking back now, what would you have done differently?
Regrets? Honestly, none at all. All the experiences made me learn worthy lessons in becoming better and stronger. So, I don't have any regrets instead I thank God for the opportunities to learn and be corrected when necessary.
Knowing that MLS is a relatively new and specialized course, what was the experience like studying in a private university?
Medical Laboratory Science isn't relatively new; it's a professional course that has been in existence for really a long time as other professional courses. The experience was beautiful and exposing. Studying in a private university wasn't limiting but very helpful in building good communication with colleagues and staff. What builds a good academic environment entails good staff and a willing student.
Any pros or cons when compared to studying and your counterparts from the public institutions?
Actually yes, given the time of study without having to go through rigorous strike sessions which was a major advantage for us. Also, facilities and infrastructures were readily available for use. I could say these are good things to write about my alma Mata – Afe Babalola University.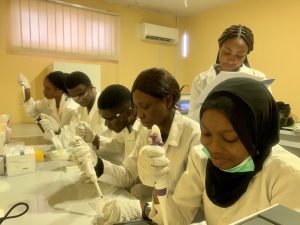 What challenges did you pass through in school and how were you able to pull through?
Yes, like every other student there were a lot of challenges in form of distractions, pressures, some ups, and downs. However, through those phases I had friends who cautioned me whenever I was about to stray. Also, some members of staff who looked out for me and I had other activities that kept me in balance.
Are there any platforms where you get to relate with other students/professionals from other schools, states, or even internationally for learning purposes or opportunities?
No, not really. I was aware of something like that being worked on, but can't say what later happened.
Did you combine academics with other extracurricular activities?
Yes, I did and I'd list a few. I was a member of the Neuroscience Research Group, an Executive Member Of Religious Gatherings, Units and a master of Ceremonies.
Nice… Why did you chose them and did they add to your personal or career development?
Well, I choose them because all work – they say – and no play, makes Jack a dull boy. They were the things I loved doing which also kept me in check, in terms of timing and focus. These activities sometimes were for relaxation and other times for enjoyment… And yes, they added to my personal and career development.
What would you say are the challenges and limitations of the MLS practice in Nigeria and possible solutions?
The Medical Laboratory Science profession is faced with a lot of challenges and limitation in the Nigerian healthcare sector. These challenges include – but not limited to – improper funding due to lack of interest, weak capacity building, poor remuneration, preference of foreign goods and man power, with outdated and poor facilities. Although these challenges are present, there are proffered solutions. Some of which include generation and promotion of Interest toward the Medical Laboratory Sector, promotion of funding and open market for job opportunities, and building strong capacity through positive political will power.
Where do you see MLS practice in Nigeria in the next 10 years?
I believe MLS has a bright perspective with great potentials to serve as a strong arm in the health sector, especially for Research and Diagnostic medicine.
What are your plans for career and professional development care to share?
Lol, By God's grace the intention is to do well to my possible best and help the healthcare sector far and wide.
What would be your advice to anyone else interested in being the BGS?
Anything is possible, if you trust God and put your very best in all you do, you can be more than the BGS. With good character, the right technique, and good companionship… whatever you give your time to, you get better at. Yes, there might be ups and downs, but failure isn't when you fall rather, when you fall and refuse to rise or pick yourself up!
Finally, any advice to students looking to study MLS or already studying MLS on their role and relation to the general healthcare sector?
MLS is a wide and beautiful course with great potentials. When it comes to courses like this, you can't afford to box yourself but always look beyond the outer scope and you'd see yourself achieving the impossible. So, yes, prepare and get ready the soar!!!