Annually, the Nigerian Medical Association (NMA) Physicians' week is celebrated concurrently across states of the nation. Usually under the umbrella of a singular theme and time span nationwide, the different state chapters commemorate the week-long affair with various activities, particularly the free medical outreaches to different communities.
According to the NMA President – Dr. Uche Rowland Ojinmah, the theme of this year's Physicians' Week, "This is our chance: To get it right in the health sector", was chosen to provide positive direction to the new administration as it relates to fixing our healthcare sector. Also, the subthemes were selected to better inform the government and people about pertinent issues surrounding health care financing and ethical issues in human organ donation.
NMA 2023 Physicians' Week Subthemes:
1. THE ABUJA DECLARATION- 22 YEARS AFTER
2. THE ETHICAL ISSUES IN HUMAN ORGAN DONATION
These he highlighted during the press conference which held on Monday, October 23rd in the host state – Abia. Prior to this, the program for the week was kickstarted with a Thanksgiving Service at the Queen Elizabeth Hospital Chapel FMC Umuahia, Abia State. In attendance at this service were current and past members of the National Officers' Committee, as well as chairmen of some states NMA chapters.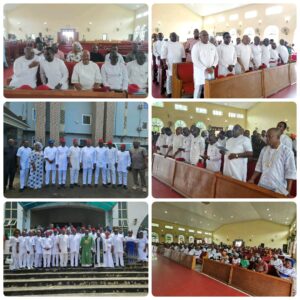 ADDRESS PRESENTED TO THE PRESS BY THE NIGERIAN MEDICAL ASSOCIATION (NMA) AT THE BRIEFING TO MARK 2023 PHYSICIANS' WEEK
Protocols.
Let me humbly welcome Ladies and Gentlemen of the Fourth Estate of the Realm to this Press briefing. An active Press is the bastion of democracy and the vanguard for freedom of expression. We thank God for granting us free speech in a country where nothing else is cheap.
As we all know and can bear witness to, our dear country is passing through a very difficult time and we as citizens bear the brunt. We as an association are exploring all peaceful avenues towards securing some economic reprieve for our beloved members. The progress towards payment of slightly improved salary to our members is just too slow. We are using this opportunity to call on government to immediately commence the payment of the recently reviewed CONMESS and CONHESS salary structures with their arrears and also the Accoutrement allowance for medical doctors and dentists. I hope there won't be need for us to engage in another round of agitation for the implementation of what has been circularized since July 2023. Let's make hay while the sun shines.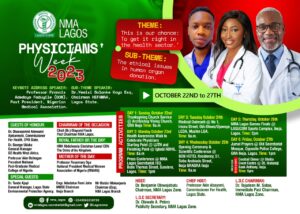 We use this medium to humbly sound a note of warning to all and sundry to never try to run Nigerian doctors down in anyway but to always follow due process if aggrieved or in discharging their responsibilities. If anyone has any case against a doctor practicing in Nigeria, it should channel such to the Registrar of Medical and Dental Council of Nigeria (MDCN) for appropriate response being the body statutorily saddled with such responsibility. The Nigerian Medical Association (NMA) hereby express her displeasure at the recent media trial of some healthcare workers by the Minister of Women Affairs. We believe that such behavior is infra dig for one that occupies such a lofty office. The Nigerian Medical Association is watching closely all processes and proceedings as it concerns the case in the FCT and shall respond appropriately. We also use this opportunity to express our condolences to the relatives of the deceased and call on our security agencies to do their job by fishing out the culprits responsible for her death. It is high time our security agencies ended this menace of "one chance" and most of the insecurity problems including kidnapping for ransom.
The menace of kidnap of doctors/dentists and their relatives have become a daily event to the point of desensitization. The government and our fellow citizens are no longer moved by our plight because all we see is lip service. For us, the saying "In the midst of life, we are in death" is an existential reality. In fact, in the midst of work, we are in death. We and our relatives have lost our fundamental right of freedom of movement and our government and society are just moving on. At this juncture, we wish to thank God for all our colleagues that were abducted but lived to tell the story. We pray for their employers to provide them necessary physical and mental health support to completely overcome the medical and psychologic sequelae. Let me also remind the government of Cross River state that we are still awaiting the return of Prof. Ekanem Philip Ephraim. To Abia state government, we are still waiting for information on the whereabouts of Prof. U.U. Iweha. We will not stop asking. Kidnap and insecurity, I must tell you are now major causes of medical brain drain and we call for action not rhetoric.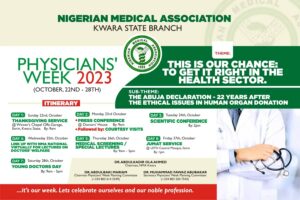 Furthermore, the routine incapacitation of the Medical and Dental Council (MDCN) regulatory function is no longer acceptable. The Act setting up the MDCN stated that the Council shall be in perpetuity but the practice whereby government allows the Council of MDCN to elapse without replacement especially for long durations compromise the ability to regulate medical practice properly as the Investigative Panel and Medical and Dental Practitioners' Tribunal which are organs of the Council cannot be constituted. Hence no case of medical negligence or malpractice can be investigated or tried. This is not fair on Nigerians and should be immediately resolved by reconstituting the Council or granting extension of lifespan to the previous Council.
The plan to stop funding Medical and Dental Council (MDCN) from next year to us is ill conceived and can only lead to disaster. The job of MDCN which is regulation of medical and dental practice is so important that funding her by government is appropriate. If we stop funding the MDCN, I wonder who we want to do it? Probably the doctors and dentists will take over funding a body that regulates and may punish them if necessary. Let us remember that he that pays the piper may dictate the tune. We call on our dear government to continue to fund MDCN in the interest of the health and wellbeing of our citizenry.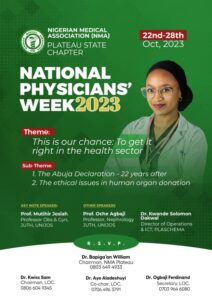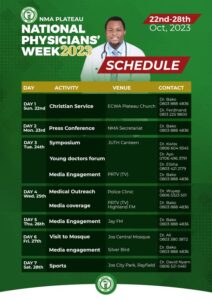 NMA wish to denounce the persistent attempt by certain individuals and bodies to interfere with regulation of medical education and standards especially as it relates to board licensing of foreign trained medical graduates. We have reviewed in detail the processes and content of these exams and we make bold to say that any medical graduate that fails them should be humble enough to seek help and not engage in brazen arm twisting and blackmail. We stand with the MDCN on this and encourage the Registrar to remain undaunted as no one can intimidate him while we watch. As stated in the Physicians' Pledge, we shall do all within our power to "defend the honor and noble traditions of medicine". We wonder why it is only the medical profession that faces this onslaught? Other courses are also read in Ukraine, Sudan, Egypt, Belarus, etc. But it is medicine that must be forced to accept all and sundry to practice whether qualified or not. If our government does not value the life of Nigerians then the NMA does and shall insist on not unleashing terror on Nigerians by licensing unqualified medical and dental graduates. Those that pass the licensing exams are not aliens. If you cannot pass then seek help and try again. We wish to especially call on our beloved National Assembly to resist being used under any guise to compromise the quality of healthcare delivery in Nigeria. If Nigerian trained doctors and dentists are poorly trained, they won't be in high demand worldwide. Our government should immediately investigate the quality of medical education being offered to our children in Ukraine. Let us stand up in defense of the health of an average Nigeria. As the great physician Hutchinson said "from making the treatment of a disease worse than the disease O Lord, save us". This is our prayer for all those trying to foist ill trained graduates on Nigerians as doctors.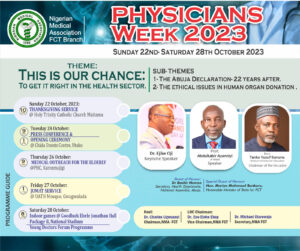 As Nigerian doctors continue to deliver free medical and surgical treatment (The Dr. Stella Ameyo Adadevoh Free Medical Outreach) to vulnerable Nigerians once every four months, I implore all doctors to also remember to take care of your own health in other to deliver care of the highest standard to our patients. I call on all of us to be more patient with our patients as many Nigerians are passing through trying times and hence may be a bit more difficult to handle. Please let us all join the webinar being organized by our Welfare committee led by Dr. JOT Onyia on Wednesday 25th October 2023 by 4pm Nigerian time for our own physical and mental wellbeing.
I hereby call on our beloved government to sustain the deployment of all plans to prevent or abate flooding this year. Flood disaster added to the current economic hardship may break the spirit of many a Nigerian. Let our politicians and statesmen in all they do remember never to compromise the peace and progress of this great nation. Many are the afflictions of Nigeria but I know that our Lord shall deliver her from them all. I hereby call on all Nigerian doctors to rise above religious, tribal and political encumbrances to work only for a better Nigeria.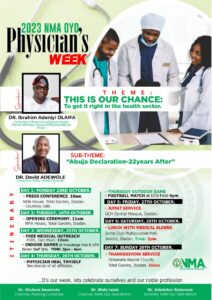 The theme of this year's Physicians' Week was chosen to provide positive direction to the new administration as it relates to fixing our healthcare sector. The subthemes shall augment the theme and better inform our government and people about health care financing and ethical issues in human organ donation.
As we celebrate ourselves this week. Let me inform all doctors that our ambassador. Dr. Osahon Enabulele is now the immediate past president of the World Medical Association (WMA) having acquitted himself creditably well in the office. He handed over to a rousing ovation at the last WMA General Assembly in Kigali, Rwanda early this month. We thank God for protecting him all through his time in office and we pray for continuing blessings upon him and his household.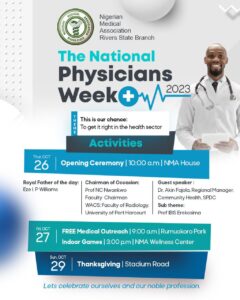 I call on state branches to give to our doctors this week opportunities for games and leisure. As they say, all work and no play, makes Jack a dull boy.
Let me hereby thank the Government and good people of Abia state for receiving us into Umuahia for this National NMA Physicians' Week flag off. I thank Dr. Isaiah Abali, Chairman Abia state branch of NMA, his LOC, SOC and members. I must also commend the National Physicians' Week committee ably chaired by Dr. Aniekeme Uwah and all state branch NMA Physicians' Week committees for their hard work and commitment to service. God bless all Nigerian doctors for their support and commitment to the Nigerian Medical Association and to our dear country. I still assure you all of the unalloyed loyalty of the NOC. We shall overcome. Be of good cheer. Remember to exploit every opportunity to relax and pamper yourselves this week.
I wish you all a Happy Physicians' Week.
God bless the Nigerian Physician.
God bless the Nigerian Medical Association
God bless the Federal Republic of Nigeria
Dr Uche Rowland Ojinmah
President of the NMA
Umuahia
October 23rd, 2023.