On the 13th of May, the 2023 Medical Association of Nigerians Across Great Britain (MANSAG) Educational Symposium themed – Learning, Teaching and Researching for Sustainable Futures: Making the Connections – held at the Forest Pines Hotel, Spa & Golf Resort, Lincolnshire, United Kingdom.
During the first guest lecture by Mr Tunde Campbell (Consultant, Transplant Surgeon) on Organ Transplantation, he discussed the research findings and challenges associated with the opposing demand and supply chain (i.e., increased demand and reduced supply) among patients requiring organ replacements for survival across different majority and minority populations. Furthermore, he highlighted the importance, ethics and bottlenecks surrounding the optimal utilization of organ donor register.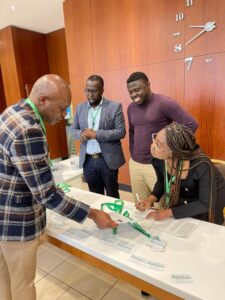 According to the speaker, evidence from care outcomes and the NHS statistics suggests that a "once and for all" organ transplant may be more cost effective than continuous care to sustain a damaged and malfunctioning organ. For instance, kidney transplant for a patient – on the long term – can be cheaper than continuous dialysis for the same patient: in terms of cumulative expenses, time spent in the hospital and availability of patient bed space. Following this session and contributions from other participants at the symposium, it was emphasised that increased health literacy on organ donation and transplantation is essential – especially in our developing societies – to improve the knowledge, uptake and provision of such services.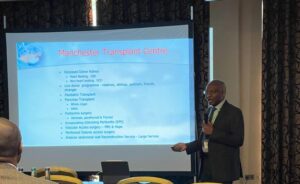 Notably, Dr Ogechi Eze (General Practitioner) commented on the need for intentional vocabulary development and use of local languages for cultural understanding during health education; to simplify and pass on the information about organ donation and transplantation to people in communities. As most myths and misconceptions surrounding organ donation are based on sociocultural bias and traditional beliefs such as delayed time for burial rites of donors and missing organ(s) when donors reincarnate. All of which are associated with "suffering in the afterlife" of the donor patients. Also, these culturally competent education can help improve the preservation of possible donor organs by preventing chronic illness or reducing associated complications that can lead to end organ damages e.g., hypertension, diabetes and the likes.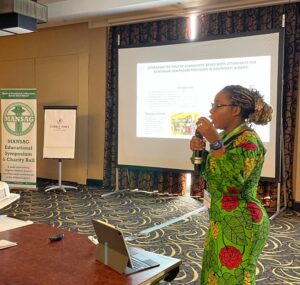 Additionally, another highlight of the educational symposium was the intense sessions of oral and poster presentations from authors across various specialties on quality improvement projects, including clinical, mentoring and medical education researches. After 10 oral presentations and over 20 poster presentations, the prizes for best poster and oral abstract presentations were awarded to Gloria Etim (a medical student from Lancashire Teaching Hospitals, NHS Foundation Trust, UK) and Mary Agoyi Awoniyi (a young doctor from Medical Women's Association of Nigeria, MWAN Lagos, Nigeria) respectively.
The best poster presentation was titled "Implementing Peer-Led Virtual Surgical Skills Course for medical students in the COVID-19 pandemic". While the best oral presentation was the MWAN Lagos Mentorship Programme: A formal Intervention programme using one-on-one and group mentoring.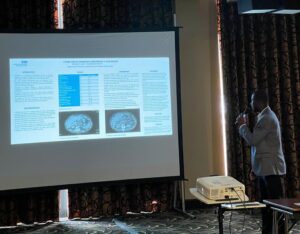 With over 60 physicians in attendance, Mr Ibrahim Bolaji in his earlier introductory address at the symposium stated that MANSAG is actively working towards the incorporation of other Healthcare professionals into the association i.e., Nurses, pharmacists, radiographers etc. And the association hopes to overcome the hurdles of bureaucracy and underlying politics serving as deterrents towards achieving this unifying feat to create a multidisciplinary approach and interprofessional channel for reverse medical tourism in Nigeria. Likewise, the headline sponsor for this event in the diaspora is Euracare Multispecialist Hospital – a Lagos-based world-class healthcare facility, contributing towards reversing medical tourism from Nigeria.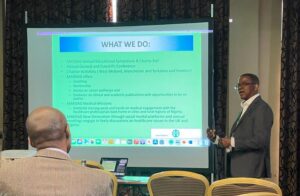 About Author:
Dr. Mary Oluwakemisola Agoyi is a Public Health Expert, Research Analyst, Healthcare Skills Trainer, SRHR advocate and also the Program Manager of Safer Hands Health Initiative. She is passionate about Reproductive, Maternal & Child Health, as well as actively working in the Adolescent/Youth Friendly service provision space, Community, Primary and Global Healthcare development sector. With a background in journalism and over 7 years' experience in writing, content creation, reporting, editing, managing and contributing on various national and international medical/health-related publication committees, platforms and organisations; She believe that proper (medical) documentation and communication across all levels and sectors is key for sustainable development in the health sector and beyond. Her email is kemisolaagoyi@gmail.com.