On the 24th of march, 2022, at The Primary Health Care summit which held at the International Conference Center in Abuja, different stakeholders and policy makers came together to galvanize ideas and collaboratively invest in the development of Primary Health Care (PHC) for its full functionality and delivery of quality healthcare services for all, in Nigeria.
Prof. Adetifa I. M. – Director General, Nigeria Centre for Disease Control (DG, NCDC) – during one of the plenary sessions expanded on the role of PHC in response to infectious diseases outbreak, which is not just the sole function of NCDC, as popularly believed. He stated that the national health security starts at the level of the PHC with more milage and cost effectiveness from investing in preparedness at that level, rather than response on a national level. This is because every functional PHC should be equipped for emergency preparedness, response and surveillance for infectious diseases. Also emphasizing that most infectious diseases are vaccine preventable diseases and immunization – as a prevention measure – is an essential deliverable of the PHC.
Following a question about surveillance from the moderator, the NCDC DG further clarified that surveillance is not a separate activity for NCDC but should be active at all levels of health care. Specifying that NCDC role is to support the state and national level of healthcare on the way surveillance is being done. He also explained that surveillance system has now been digitized to provide real time information on surveillance for immediate response and these is to be made available across all healthcare facility over a period of 5 strategic years.
PHC is an essential building block for a resilient health system and national health security ~ Prof. Ifedayo Adetifa – DG, NCDC 2022
However, the National Health Insurance Scheme (NHIS) Executive Secretary – Prof. Sambo M. N. noted that, another key building block of healthcare delivery system is healthcare financing, which is currently not at its best in Nigeria. This can be attributed to the very high and catastrophic out of pocket expenditure (up to 70% and more) currently recorded in the system, and ideally shouldn't be more than 30%. Some of the solutions proffered to reduce this alarming figure is to have coordinated contributions towards the healthcare system at the 3 levels of government (local, state and national), while adopting the working financing models in other countries of similar climes like Ghana, Sierra Leone and South Sudan. Likewise, there should be service reform for task shifting to reduce burden of healthcare provision from the 3rd level of healthcare delivery system (where most of these expenditures are recorded) to the PHC, while ensuring that the services are made client and community centred for improved demand and better outcomes. These could also be achieved by collating quality data for action plan and getting on board traditional and religious leaders of communities.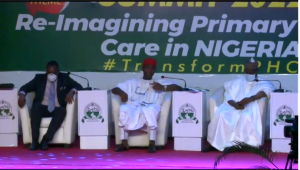 The second plenary moderated by Prof. Pate M. A., explicitly discussed the way forward and what needs to be different in policies, implementation and the healthcare work force to achieve the common goal of a revitalized PHC, nationally. On this session, the Director, Family Health Department, Federal Ministry of Health (Dr Salma Ibrahim Anas) emphasized on the need to learn from our previous experience during the outbreak of COVID-19 pandemic, which fully exposed the fragility of our health system, especially the weakness of the healthcare workers in the system. Also, learn from the successes of response to Ebola and the control of HIV/AIDS. For policy implementation, she stated the need for an increased interest by the political sector in the health system, which the COVID-19 has created an opportunity for. Her core recommendations were key cardinal multisectoral approach and getting religious institutions involved to take ownership of the community healthcare and serve as stakeholders for service delivery in those communities.
The Managing Director, Aliko Dangote Foundation – Zouera Youssoufou – representing the private sector on this panel revealed that why most Public-Private partnerships has been limited over time is due to the lack of trust on both sides of the table, presuming that interests are not aligned. With the public sector thinking that the private sector is all about making profits, and the private sector thinking that public funds are hard to trace or untraceable. She further stated that this has been the biggest obstacle to overcome working with both sector and needs to be aligned, to move in the same direction for the same goal.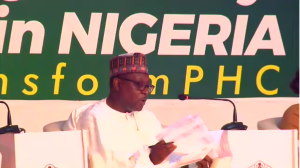 On the role of academic institution, Prof. Uzochukwu B. S. C. – categorically stated that research and policy making are needed for actions in the public health system; and to change practice, we need evidence which is provided by the academia. Further elucidating on the fact that most policies and some of our practices in Nigeria are not evidence-based but faith-based. Hence, the need to create context specific evidence by researchers working with policy makers. However, noting that there is a huge gap between the researcher and policy makers, due to lack of communication and trust between them (as the researcher feels the policy maker is intruding in his space and the policy maker feels the researcher is aiming to audit his activities).
Therefore, to be able to bridge this gap and produce the context specific evidence needed for policy making by researchers, both teams must lay bare to the table their interests and values. Also, the policy maker must be trained to recognize evidence and identify it for use to change practice. Furthermore, he highlighted that funds are needed for research and involving decision and policy makers in the process of research or as a part of the research team, allows them or even makes it easier for them to make use of the evidence generated. Hence, comprehensive, horizontal, and cross-sectional stakeholders engagement is important.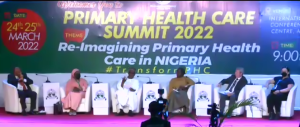 Also, according to the WHO country representative on the plenary session, all-round accountability on indicators and finances, availability of human resource and data to make informed decisions are needed for primary health to move forward. Which is currently being achieved by governors comparing their healthcare system among themselves in their forum using score cards to review their successes and quality of services delivery. This process is incentivized by UNICEF to encourage states doing well to keep doing well and states with not-so-good results, to do better. He concluded with the fact that, the role of national primary healthcare is catalytic and the success or failure of the PHC under one roof is dependent on how incentivized the system is and a determinant for the critical outcome.
On a final note, one of the many calls to action by the speakers for a way forward on revitalizing PHCs was to implement one of the Memorandum of understanding (MOU) signed into policy few years back, which is yet to be implemented by the FMoH. The MOU was for tertiary health institutions to adopt a secondary level facility, especially a PHC and provide them with technical assistance, mentorship, resources, training, as these would also contribute towards the optimal functioning of the facilities. Other suggestions from doctors in the audience included; inclusion of mental health in the PHC plan, as it's often excluded and use of telehealth to get specialist involved in care delivery at the level of the PHC without referring clients physically to tertiary facilities, except its absolutely necessary. As a means to reduce the burden on teaching healthcare facilities and maximally utilize the PHC for care delivery.
A shared vision is needed for political will and leadership commitment. We need to be clear on our healthcare needs and commitments in political agenda ~ Dr, Salma Ibrahim Anas – Dir., FHD, FMoH 2022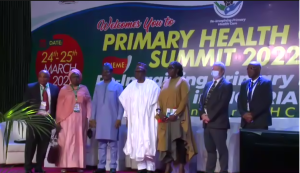 About Author:
Dr. Mary Oluwakemisola Agoyi is a Public Health Expert, Research Analyst, Healthcare Skills Trainer, SRHR advocate and also the Program Manager of Safer Hands Health Initiative. She is passionate about Maternal & Child Health and actively working in the Adolescent/Youth Friendly service provision space, Community, Primary and Healthcare development sector. With a background in journalism and over 7 years' experience in writing, content creation, reporting, editing, managing and contributing on various national and international medical/health-related publication committees, platforms and organisations; She believe that proper (medical) documentation and communication across all levels and sectors is key for sustainable development in the health sector and beyond. Her email is kemisolaagoyi@gmail.com.