A popular Nigerian saying goes, 'The average Nigerian is one chronic illness away from poverty'. This is largely because of the high and catastrophic cost of healthcare services in Nigeria, with most people still paying out of pocket for medical expenses. And for a country where 4 in 10 of its citizens live below the national poverty line, this saying is justified.
The National Health Insurance Scheme (NHIS) was established in 2004 under the NHIS Act (2004) by the Federal Government with the goal of increasing access to affordable health services towards ensuring universal health coverage in Nigeria. However, for 18 years, this scheme was crippled by: Inadequate funding, Poor implementation of the Act, Non-obligatory enrolment policy, Poor legal framework, Inadequate regulation of health maintenance organizations (HMOs) and providers' practices.
A few weeks ago (precisely on the 19th of May, 2022), the President signed a new act into law – overturning the old National Health Insurance Scheme Act – and instituted the new National Health Insurance Authority. Sequel to this, reasons for this action and it's implications on Nigerians was discussed at a press briefing with core members of the National Assembly on health affairs, i.e. Sen. Dr. Ibrahim Yahaya Oloriegbe (Chairman, Senate Committee on Health) and Hon. Yusuf Tanko Sununu (Chairman, House Committee on Healthcare Services).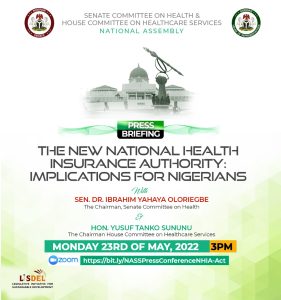 Aside from stated reasons, one major concern expressed across board was the possibility of a repeat failure of this new act to achieve its set goal. However, some responses to address this concern highlighted the structures put in place for this new act to meet up where the former failed. These include: Policy on Mandatory Enrolment, Introduction and regulation of 'Third Party Administrators' (TPAs), Introduction of the 'Vulnerable Group Fund', Improvement of the already existing fund, Creation of 'NHIA Fund' and so on.
According to the law, "All Nigerians" will be expected to be registered with a facility for healthcare and all eligible citizens compulsorily enrolled.
According to the senator, the "BuhariCare" – as he termed it – was successfully passed and signed into law, following the edit done on the last one passed but not signed due to the inclusion of the Telecom taxation. However, different proposed funding options for the implementation of this new act include; Basic Health Care Provision Fund (BHCPF), Vulnerable Group Fund, Grants, gifts or donations and Funds accruing from investments made with some of the above. The State Health Insurance schemes were also highlighted to work in collaboration for the implementation, emphasizing that public facilities are to be first incorporated but in the event of non-availability, private facilities will then be incorporated.
All Nigerians must first subscribe to Social Health Insurance, before taking out Private Health Insurance, hence, HMOs and other Private Health Insurances are now supplementary.
Challenges posing the effective implementation of this act were also discussed, one of such was the identified lack of human resources and plans to address its numerous causes. For example, the flight of health care workers from the country by working on attractive wage adjustment to encourage their retention within the health care system. Meeting with major stakeholders to strategize on proper implementation of the Act in the following months was also mentioned.
One of the major stakeholder actively working on the framework for NHIA implementation and adoption is the Healthcare Providers Association of Nigeria (HCPAN) Assembly on NHIA. This assembly convened by HCPAN National President, Dr. Jimmy Arigbabuwo, comprises of all leaders and stakeholders in every medical and healthcare associations across all fields in both public and private sectors (i.e. State Social Health Insurances, HMOs, Medical directors, Pharmacists, Optometrists, Dentists, Doctors, Medical laboratory scientists, Nurses/Midwives, Community health practitioners, Health technologists etc.) and also serves as a platform to conduct analyses and rob minds with the Former Executive Secretary of NHIS (now the Director General of NHIA) – Prof. Nasir M. Sambo.
Other Highlights of the new NHIA Act include: NHIA as both a regulator, implementer, investor and insurer i.e. Tariffs charged by Healthcare Providers for the compulsory Social Health Insurance will be set by the Authority; Demolition of Treasury Single Account (TSA), Exemption from Trustee Act, Expanded role of TPAs and Well defined sharing formula for the BHCPF.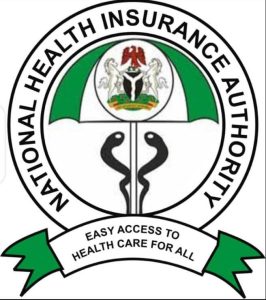 Editors note:
This article was collated from contributions by OgoOluwa Ajiboso (Medical Mirror Correspondent), Dr. Folu (Advantage Health) and extract from analyses on the HCPAN Assembly on NHIA platform, following the virtual press briefing.