Interview with the First Female CMD of OOUTH, Dr. Fatungase by Medical Mirror in collaboration with MWAN National YDF
In 2022, Dr Oluwabunmi Motunrayo Fatungase was appointed the substantive Chief Medical Director (CMD) of the Olabisi Onabanjo University Teaching Hospital (OOUTH), Sagamu, Ogun state, Nigeria. Being the first female to occupy this position, during the celebration of this year's women month in collaboration with the National Young Doctors Forum (YDF) of Medical Women's Association of Nigeria (MWAN), we at Medical Mirror (MM) spotlighted her activities as one of our Amazons in Medicine.
Below is an excerpt from our interview with her.
Correspondents: Dr Dorcas Olubunmi Taiwo-Ola (MWAN National YDF Coordinator 2021-2023 Biennium), Dr Oluwakemisola Agoyi Awoniyi (MWAN Lagos YDF Coordinator 2021-2023 Biennium), Nrs. Temitayo Olatunji (MM Correspondent) and Oyeniyi Blessing (MM Correspondent).
MM/MWAN YDF: Good morning ma and thank you for having us and giving us this opportunity as younger colleagues and future health leaders to learn from you ma. Can you share with us briefly about your background Ma; What was growing up like? Where did you school? Have you always wanted to be a medical practitioner? And what was your greatest philosophy growing up?
My name is Oluwabunmi Motunrayo Fatungase. I was born into a polygamous family of 10, with mostly girls. I am the 1st for my mum, 7th for my dad, and my siblings are wonderful. I went to Sacred Heart Primary Sqchool at ring road in Ibadan and attended Anglican Girls Grammar School in Ijebu Ode for my secondary education. Then I had the privilege of studying MBBS in Olabisi Onabanjo University (OOU) from 1989 to Feb 13th 1998, did my housemanship at University College Hospital (UCH) Ibadan and had my youth service at the OOU health center. After my youth service, I started my residency program in the Department of Anaesthesia, OOUTH (2000-2006) and got employed mid 2007 at the teaching hospital till date.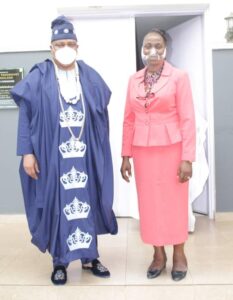 Growing up, I had always wanted to be a doctor. To the extent that when I was young, my step mum used to call me "Ajike doctor" simply because I get overly concerned about helping people when they sustain injuries, although I didn't like the sight of blood. Despite the fact, I wanted to study medicine, even though my journey wasn't all smooth because my cut off point then wasn't sufficient. So, I had to start medical microbiology with the hope that there would be an opportunity to change over to MBBS when I was in 300L. However, this did not happen. So, I continued with my Microbiology degree and thought "maybe I should just be a PhD holder in Microbiology", but my father reminded me of my dream to be a doctor and this helped not to give up.
My passion to help and desire to be able to connect with human beings in an extra ordinary way, must have been part of the reasons that helped and kept me in medical school with the grace of God… Even when I thought of quitting, I kept getting better by the day – with God on my side.
MM/MWAN YDF: Congratulations on your appointment once again ma (even though it's almost a year now). Looking back to before, during and after the period you were appointed by the state governor as the first female CMD in the history of OOUTH; how did you feel through these different phases? Was attaining this peak always part of your career plans or it just happened along the way?
Thank you for the question and for the congratulations. I believe my being here is by divine arrangement, as I'd never thought of holding a management position. Although, people often say being the HOD is a management position, I would have thought of that as the highest level I'd be privileged to reach in service. However, I've always been in a few-membered department, and at the time when the department was led by Prof Ayo Oyegunle (between the late 90s and early 2000), I worked closely with him. Then, he was provost and HOD at the same time and at some point, he was the Dean. During those periods when he was away on leave, I had to step in as the acting HOD. Hence, becoming CMAC or CMD was never part of my plans or desire, but my desire was to be a female professor, because my department was male dominated at that point. Although this has changed, as I have been able to mentor more women into the department.
Now having to think about it retrospectively, I see it as divine arrangement. It's God's grace, His plan and future for me that is unfolding. Even as I am right now, I don't have any position I am eyeing. Albeit, I aim to keep getting higher and my only desire as an academician is to become a professor of anaesthesia. Which I'm happy is currently in the pipeline and God will bring it to accomplishment in due season.
It's a great honor to be the first female CMAC and CMD in the hospital, and perhaps the youngest so far. I actually never realized this until some months into my resumption when my attention was drawn to the photos of past CMACs and CMDs displayed in the office and I had to look at the rack closely. I see this as a privilege to serve, an opportunity to be a blessing and my philosophy is – to be able to help, live a life of impact and fulfil purpose. This, I believe, is the reason God brought me here.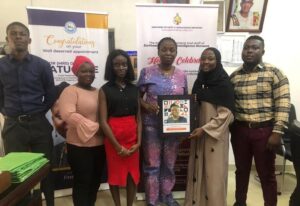 Initially, I felt inadequate and questioned my ability to perform successfully in the office. Largely because it was portrayed as a role that should be filled by men only or a man's job for generations. But in my moments of doubt and frailty, I get assurance from God and his people who are around me – to get a day at a time and always ask for help when needed. Honestly, I thought I wouldn't be able to survive the first six months as CMAC. But I did, and it was in my second tenure – April 2021 – I had to start acting as CMD. By the grace of God in June 2022, I was appointed as the CMD by the governor of Ogun state, Prince Dapo Abiodun.
These are encouraging words to emphasise that we shouldn't feel discouraged. We should surround ourselves with people with like minds, beliefs and interests, so as to foster our journey in life – MWAN National YDF 2021-2023 Biennium. 
MM/MWAN YDF: Up until this moment, what has your career journey being like? Was it easy? Was it a struggle? Or was it in between? and what would you say is or was the toughest decision(s) you made as you progressed in your career?
Interestingly, the toughest point of my career – which I think God used to prepare me for this journey – was during my residency program. Thank God the struggle was not without Him, He made it all easier.
I had my first child during NYSC and immediately after, I started residency with my baby at 7 months. It wasn't easy coping with a baby and rigours of training. But I looked around and saw some older female doctors who had grown children and are still in the profession – combining the medical career with their roles as mothers and wives excellently. One of them was Professor Olaitan Soyanwo, then she had 4 kids and was doing well. These people were my role models at a distance, and they mentored me as I got closer to them.
Honestly, those times were tough times – physically, psychologically, emotionally, spiritually, financially – Residency was draining. But I kept reassuring myself that, if these people didn't break, they didn't die or have a mental breakdown, then I can cope.
I believed in God to teach me the "know-how" and I was blessed with good mentors and role models whom I could always ask question from and seek for help. When you have these, it makes life easier and you'd rarely make mistakes. They constantly reminded me that I could do it; combine family, career, ministry, and my social life, as well as find a balance, and miraculously I was able to scale through. Also, I learned early in this period that a bit of stress is needed for me to push forward, become a tougher and better person. I refuse a life in a circle.
Up till date, my toughest decision was when I had to leave my kids and husband at Ijebu Igbo permanently for about 2 years. Then, I come to Sagamu on Sunday evenings or Monday mornings as a resident doctor, and go back home on Friday evenings except when I'm on weekend call. During exams, I refused a life in a circle ends and family who are always willing to help, it was quite helpful for me. So usually when exams are close, I just leave my kids with my mum. Sometimes when she's not able to come and stay with me in my husband's house, I just drop them with her and my husband was also supportive. Pre-part 2 as well, I had to make up my mind not to have any pregnancy, it was a family decision and this also helped me. Hence, there is a long gap of 8 years between my second and last born.
MM/MWAN YDF: Wow. How then are you able to cope with tension and pressures that come with this position, as well as balancing it with your other involvements? Knowing that you were a past MWAN OGUN President, actively involved in associations and more.
Really, the tension and pressure won't permanently go away. They will be there persistently, and the higher you go, the greater the pressure and tension. Moreover, something I've learnt in my journey through life is that, God will make a way in every situation and 1st Corinthians 10:13 is one Bible verse that has helped me through it all.
Also, as a female anaesthetist who have worked with men more than 99% of the time – as a resident and a consultant – I've always had to be in a man's world, where the tension is intense. For instance, as a resident, I've had to withstand the stress from working with surgeons who had different temperaments on cases (particularly, a surgery list that gave me emotional and mental torture). Initially in those days, I come to work fasting every Wednesday and wouldn't break the fast until I finish that day's job. Majorly because I believe I needed the spiritual, as well as mental strength to cope with the "harassment" I was envisaging from those male colleagues.
Overtime, this has fortified me and I'm now able to handle the tension and pressure better, but it's still not easy to be boss to many men. Especially, men who have wives at home and are perhaps older than I am, even my counterparts who are my age mates. You know the way men behave, an average man sees a woman as "she's like my wife…" or thinks, "what does a woman know", "how is this woman reasoning" … And so, whether intentionally or not, they seem to relegate women at any given opportunity and that psychologically prepared my mind. It wasn't easy but I was able to understand them and not make issues into fights or arguments.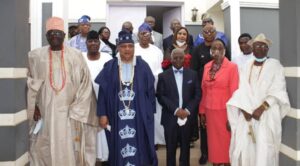 Once I sense a form of resistance from any of my team members, I try to understand where they are coming from and remind myself that "the way a man reasons, is not the way a woman reasons" and this helped me to maneuver my relationship amidst the tension and pressure. Sometimes I've had to call my colleagues or subordinate, to say "you just shouted and I'm sure you know you were not meant to shout at me" and the person apologizes not do such again, which I think is fair enough. As opposed to if I had made it an issue of always asserting myself as "the boss", I think I would have had a lot of problems at hand.
On balancing this position with other aspects of my life, I just prioritize. I don't have to be at all parties or events, I delegate some and I don't show up for the ones I can't afford to. I choose where I have to be, I can't attend 4 parties on the same day, I need time to rest and be with my family because when I leave this position, I am going back home to them. So, I cannot jeopardize my family time with other activities.
My time as MWAN Ogun state president in 2013-2015 was another platform I believe God used to prepare me for this my current position. During that period, I was able to meet with so many people in government that at a particular time, I had to present cases to the First Lady of the state. It was an opportunity I will never forget. Also, as MWAN Ogun president, I remember being a young consultant who was so busy that sometimes I even forget my baby in school. But I had MWAN sisters who oblige to carry my baby for me. My baby adopted second and third mummies which my husband understood.
Every woman needs a support system. You need people and good friends like sisters who can assist you. You can't be an island; you can't live alone or stand alone. I have friends who my children see as mother figures and I can entrust my kids with them, because they are like sisters to me. Surround yourself with good friends and be there to support them as well.
MM/MWAN YDF: During the race to becoming the CMD, were there any other or possible oppositions and how did you handle them without creating conflicts (either for that moment or for the future)?
Honestly, I didn't see it as a race because I wasn't fighting to be in the position, I was simply asked to act in the position. I knew there would be competition, but I was not in the competition because I was never desperate to become the CMD. Even though everybody felt like being the first female CMD will be good and people started praying for me. Nonetheless, I believed that if God wants me to be there, I will be there, and if he has another plan for me, so be it.
Initially, if there were oppositions for the position, I didn't know because I didn't have to struggle with campaigning or running round to get people on my side. Even though I had a full grasp of what the job would entail, I didn't have to present at a manifesto and this "nonchalance" caused some conflict. However, my believe is "when you work, your work speaks for you", plus it is a position of service – It's either I am chosen or not. Personally, I wouldn't like to "beg" to be CMD because it is a huge task, very demanding – spiritually, physically, mentally, financially, even security wise. But I thank God for consistent help, He was the one that has made it to be. Also, I have learned to live one day at a time and leave everything to Him.
I am not a "position-oriented" person. I am an "impact-oriented" person because even if I don't have a position, I have a role to play and that is my philosophy. I love to mentor and help others. For a long time, even as the MWAN Ogun state president, I have been involved in organizing free medical outreaches with different organizations and never charged any for consultation fee. I see it as a way to give back and if they wish to appreciate me, that's their decision. And honestly, I've gained more than I would have charged – in terms of relationships, lasting friendships, and networks. This is one thing I would like to pass on to the younger generation, "you shouldn't be fee, money or reward oriented". This is because, if you're doing something to impact life, you're bound to be rewarded. If not by humans, God will definitely reward you – He doesn't owe any man.
MM/MWAN YDF: As a woman in the healthcare management and leadership scene (where we have fewer women), what would you say are the most important skills or lessons that have helped you excelled and remain on top?
As you've rightly stated, there are few women in leadership positions combining it with healthcare management. Although not easy, one of the most important lessons that has helped me is to value people and always want to add value to people. I see everyone has a role to play and I can learn from anyone. This enables me to tap into the resources of so many people, even those you wouldn't imagine can give you valuable information or advice. Hence, I don't look down on people, I tend to listen to everyone, and this makes people positively disposed towards me and really happy to help me.
While another lesson is to remain teachable and not see myself as know it all, because when you think you're complete, you're actually not. I realized that if you cannot stoop low to conquer, you will have a big problem with people, including your subordinates. You need to understand that sometimes, you have to come down to people's level – to learn from them, get somethings done – and this works like magic. You can always learn from everyone but when I receive counsel or advice from anyone, I subject it to the x-ray of the Holy Spirit for modification and application.
Also, another most important skill is Networking. I love to meet people, get to know them, make friends – whether they be medics or non-medics – and this has helped me by expanding my level of influence and area of Network.
In summary, the important skills are – value people, encourage networking and be teachable. For one, I still ask God for the grace to be humble. You can too, and He will always teach you through anyone and any circumstances.
MM/MWAN YDF: Looking at the state of our nation today, the different (monetary) policies and elections around the corner… how does it affect healthcare providers delivering and those receiving healthcare services? And what are some of the feasible recommendations you can give in those instances?
In view of the changing (monetary) policies, its largely linked to our elections. However, what I would like to tell health care providers like myself is that, it is important to understand the circle of people around you and be emotionally intelligent. Everywhere is tensed, people are grossly unhappy and our salaries as doctors are overrated. Albeit, contentment is the great gain. In whatever you earn currently, be happy and content, knowing that it's only God that gives increase and blessing without adding sorrows to it. Do not be greedy or covetous.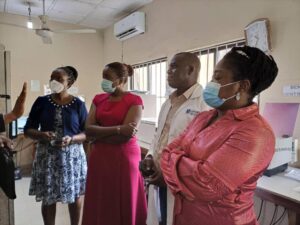 Also, you have to be committed to your work as a health worker and focused on helping your patient as appropriately as possible. As doctors, we are already vulnerable and prone to security risk. An added flashy lifestyle of exorbitance and living beyond your means, as well as displaying temperament can pose a higher security risk. For instance, I remember the case of a female health care worker (HCW) that was kidnapped. At the den of those kidnappers, it was a patient she had helped by giving money to feed while on the ward, that assisted her escape and also gave her money to go home in return. Who later revealed the people that arranged the kidnap and advised her to watch herself and mind her business. If that health worker had been irritable, mindless, careless and uncompassionate, she would not have obtained that kind of help that prevented the kidnappers from making millions of naira off her kidnap.
MM/MWAN YDF: Beyond the "tales of woes" across all levels of our healthcare system today, what would you say is the greatest gift we have and (how it) should be harnessed for the improved management and better outcomes of the system?
The greatest gift we have is the rich and cheap training of the health care system in Nigeria, compared to any other part of the world where medicine is been taught. We are trained to be resilient, and this is one of the reasons why – when we go aboard – Nigerian doctors excel. The training helps us remember medical knowledge or clinical instructions from repetitive lecturers or residents insisting we do clinical procedures in certain ways. On the long run, those things and other peculiar situations we have passed through during training make life easier in other climes and health systems. Also, the system teaches us to improvise, and we should tap into this positively and constructively.
What we need is for the government to invest more in equipping our health system and providing good remuneration.
Several people outside the country are not really enjoying themselves or the work they do there. Because the bills are too much, and there is the constant bias and racial discrimination towards them as immigrants, which is also not encouraging. A lot of health professionals would have loved to remain at home but cannot. Particularly, due to the unavailability of basic infrastructure and insecurity problems in the nation. Finally, we should not forget we are mentors and the strength built into us through medical school is second to none.
MM/MWAN YDF: Now, coming to Ogun state. A lot of people don't know about anything innovative going on in the state, especially in the health industry. As a leader in that sphere, can you give us an insight into some of the health innovations currently happening across the state or in your institution?
One of the health innovations currently taking place in Ogun state is the "hub and spoke", where the primary, secondary and tertiary health facilities are all connected together. This provides a straightforward and easy referral pattern, particularly for maternal and child health care, and was initiated by the honourable commissioner for health – Dr Tony Coker. Also, the use of electronic medical records is in its pilot phase in some primary health care centers, which will soon be installed at the tertiary hospital i.e., Olabisi Onabanjo University Teaching Hospital (OOUTH), as it has gotten to 95% level of implementation.
Also, the payment system in the entire Ogun state is now electronic. At any of our healthcare facilities – from primary to tertiary – you can pay with POS or transfer at the cash point and you will be able to access services. This has likewise made payments and funds possible to trace and find, as well as reconciliations easier. It was a little bit difficult at the beginning but majority of our patients are adapting to it well. We now have more than 60% of our patients pay seamlessly with no issues concerning cash payment and they are able to access health services as much as they can come with their cards or make transfers.
The other innovation in the health care system is the advancement in radio-diagnostics, which we are hopeful on having partnerships with other hospitals. Really, there is still a lot in our pipelines and collaboration between all levels of the health care sector (especially the primary and tertiary centres) is one big initiative that is helping us now. In so much that, when any patient is referred from any of the centres – be it primary or secondary – to the teaching hospital, they can be easily followed up.
We now have an easy connection and transmission, and patient do not have to be tossed around for or following referral services.
MM/MWAN YDF: If you had the opportunity to implement one working policy, strategy or an action plan to revamp the current state of our healthcare system or maximise its potential, what would that one thing be?
One working policy that I will love to Implement in other to revamp the state of our health care system is the policy of health care insurance, which I believe the Ogun state government has already implemented. The former government also did somethings about it, but our people need a lot of orientation. We also need to establish trust between the government and the people, because paying out-of-pocket will never help anyone. A lot of people need to access health services but do not have money, and "Health is wealth". So, if there is any way we can work around it and even involve philanthropists in the society to buy into it, then we allow more people to have a choice for their health.
If you can do that and the purse can be kept and utilized well, it's going to help a lot. Another thing would be the policy for people to know that health care is not a business or profit oriented establishment, particularly in the public sector. Hence, we want to implore the private sector and philanthropists to invest in it and assist the government. So that we can help a lot of people who need access to healthcare services that are capital based but are not able to, due to lack of finance for such. E.g., specialized capital-based investigation like CT scan or high surgical procedures.
Health care insurance is a MUST and everybody in the state–whether government or private workers–must key into it.
MM/MWAN YDF: What is you take on financial and resource management in hospital? In your opinion should the role of a CMD be different from the role of a CEO/MD?
I love to mind my business a lot, I don't like looking into what others are doing to condemn them, instead I'd rather to face my own work. As CMD of a hospital, it's important that one is able to do strategic management, which is the main job of a CMD. A CMD is meant to be strategizing in every area – whether it be resource, financial or other management area – that requires overall coordination of the facility. Operations should be left to the Director of clinical services and every other management teams which include heads of departments and chairpersons of committees. This is why it's more burdensome and stressful when people bring operational matters to the CMD. For example, if a gardener is not working, or a cleaner is not at work, this is not the direct business of a CMD, and everybody needs to get this clearly. Especially, when people want things to get done fast, and their first point of call is the CMD, which is inappropriate.
The CMD is like the CEO of the establishment. Albeit everyone has a boss and even as a CMD, I have a board and the commissioner of health above me, and they have the governor above them. So, despite the fact that I work as a CMD, I still have superiors I am accountable to, which is applicable to very worker and important for us to know.
As CMD, strategic management of the hospital is my main job. The CMD is also the Chief accounting officer of the institution, in charge of strategic financial and resource management. However, your title should not limit your role so as to be effective.
MM/MWAN YDF: On a lighter note, how do you unwind and interact with your co-workers and colleagues informally? In so much that it doesn't affect your professional and formal relationships with them in carrying out their duties?
I am a jovial person to an extent and because I value people, I try not to make expensive jokes and I let them know that I am also human. There are ways you value people, relate with them, show that you care about them, and you are able to reach their hearts and have their hands to work with you. I do not have to lose respect with them, because I believe respect is earned and not demanded. And of course, I draw my line with them, particularly the opposite sex. I do not allow any form of unwarranted touch or language, which has been established even before I become a consultant. I can be strict, but I joke with co-workers – I am not an "all high faced" no smiling person – I have my funny faces that people find amusing and makes them smile.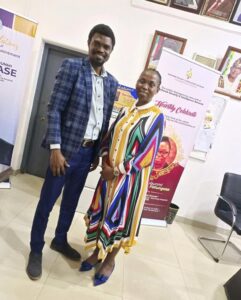 At home, I love to cook, and in my quiet moments, I love to watch comedy that makes me laugh. Which I think we should all do every once in a while, we should have our moments of reflections to smile and "laugh it off". Also, I am able to attend few social events for my co-workers, colleagues and staff. And I love to send appreciative messages to people, particularly on their birthdays. I have prerecorded messages for my staffs, members of executive and management teams. Usually, they receive a voice call in the morning or sometimes I send voice notes and at other times, I send encouragement messages. I have a lot of emojis on my phone and I send images of "well done", "thank you", "bravo" and the likes, which has made it easier to be able to appreciate them.
MM/MWAN YDF: We know brain drain is one of the cogent problems of our healthcare system today. How bad is this affecting your institution? How are you tackling this menace in your own institution? and what are your recommendations to the government, other leaders and employers in the healthcare sector towards curbing this action and minimising its effects?
The brain drain matter is a stressful issue I've had to come in terms with, that I don't have the power to stop anyone from leaving. However, I can mentor and impact people to such an extent that when they have to leave, they look back and are able to keep in touch to be a part of the system. Some have promised to come back and volunteer for medical programmes and health outreaches – that is brain sharing. Likewise, some others have said that when they get there, they will be able to bring something back since they have an understanding of the system they left from.
A lot of healthcare professional that leave attribute it to pressure. Pressure from insecurity, pressure from poor financial remuneration, pressure from wanting to give their children a better life and so on. Whatever the reason may be, when a person is focused on migrating in search of greener pasture or for an international experience, it's difficult to stop them or bring them back. However, what I believe is – let people leave as amicably – that is my rule number 1.
I do not like people leaving the system unless the person has done something absolutely wrong and has to be disciplined. In life, I believe in balance – balancing love, character and discipline among your employee and co-workers. Most times, those people who left as a result of discipline do not leave on good terms. But later in the future, they tend to face the fact and consequences of their action. However, the most contributor for brain drain are those who leave for greener pasture.
In as much as we might not be able to stop them, what we do in our facility is to always have a pool of possible replacement for staffs. A system where we take a poll among our staff and conduct interviews on a regular basis for new intakes, in anticipation of the workforce deficit. Even though, we are not able to employ them immediately after the interview, we inform them that they'll be included on our employment waiting list. So that once we get an application to retire or resign, there is someone already screened and readily available to resume into the vacated position.
This allow us to have a moving chain of employment and the government has been magnanimous to help us keep this replacement chain running, with the consciousness of not going beyond our approval limit. Based on this, we are able to at least maintain our current working force, without running short or burning out those on ground and at work.
MM/MWAN YDF: On a final note, what would be your words of counsel: first, to women trying to forge a path for their career in a world that is biased against women. And second, to young health care workers who are torn between remaining in the Nigerian health system against all odds and leaving to pursue a better future.
My word of counsel to women trying to forge their career path in a world that is bias against them; first, is to be focused and prepared. Because a door doesn't just open, you have to open it. Second, as a woman you are not a disadvantaged. God made humans, both man and woman in His own image. Therefore, know what you want to do and be focused on it.
You cannot stop anybody from been biased against you, you cannot help anybody who has inferiority or superiority complex, but you can help yourself. By making yourself feel good that you are not inferior to anybody, and you are not a second fiddle.
God has put the same strength in you as a woman and I always tell women that the advantage we have over men is that we have a womb that is a burden bearer sample. Every woman that gets pregnant has a womb that stretches in the process. Initially, the womb is very small and looks frail like it doesn't have capacity, but as days, weeks, and months go by, the womb increases in size and tensile strength. Also knowing that the seed planted by the man in woman was just a tiny sperm that fertilizes the egg. Yet, the woman incubates and nurtures it to life. In the same light, as women we have the capacity to bear burden and stretch, with the ability to incubate ideas and create new life.
In my journey, I am grateful for women mentors around me, who always made me feel I had – and still have – a lot of potentials in me to offer. Due to this, I do not see myself as little with nothing to give or contribute at any point in whatever circumstance I find myself. Even if it's in a kitchen, I can cook up a delicacy that can break record. Therefore, as a woman you must not see yourself as a useless tool, or a second fiddle to a man – that unless the man makes you something, you are a nobody.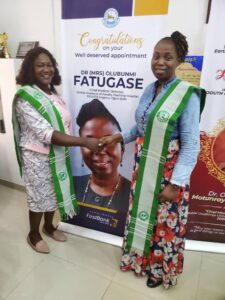 Remember the words of Michelle Obama when she illustrated the story of when she and Obama went to a restaurant and found an ex of hers there. Obama then said she would have become the wife of a restaurant worker, but she responded that Obama was the blessed one, and would probably not have become the President of USA if I she had not married him. She saw herself as a king maker. Hence, a woman should not be biased. Whether you are making moimoi or a trader, you are there to excel and make a mark. You have the capacity inside of you, believe in yourself and know that you have the strength it takes.
Every woman, just like the womb she carries, has the capacity to stretch expansively and not burst, tear or break until she pushes, travails and brings forth something new. So, I want to encourage all women out, you have this same capacity. You are divinely empowered; you have a seed of greatness in you – do not give up on yourself.
In a man's world, you cannot help a man to think like he is there… but by the time you bring forth your fruits of productivity, efficiency, clinical astuteness, accuracy in the things, excellence in performance; your work will speak for you – you don't have to argue or stress. A lot of men are seen in leadership and their strength is in their wives. The good woman behind them has always been the one sustaining, helping and cheering them on. I have heard people say, "this man should not be 'this'", but it is the woman that has always been there (behind), who has the capacity and constantly supporting him that "you can do it". With these, I want every woman and young lady to believe that they have "all" that it takes to be the best and "all" God wants them to be.
Now to young healthcare professionals; I say, "before you leap, before you jump; watch closely". Everyone is not destined to be outside the country, but before you make such decision; Pray and ask God to bring good mentor(s) your way – who can guide and help you. You cannot go out to a foreign land "alone" without "nothing". You must go prepared psychologically, spiritually, mentally, financially and emotionally. Because if you are not resilient enough, just an issue from loneliness, racial criticism or the system itself can tamper with your sanity. Yes, there is always electricity, water, Nando's and the likes everywhere there. Beyond these, everything is not a bad of roses… I have people who have been living abroad for years and always complains about the weather's downside, often complementing that the best weather is in Nigeria.
My plea to the younger generation who still want to leave the country – nobody is saying you should not leave – is to sincerely settle down, ask yourself "what do I want for myself" and ask, "what does God have in plan for me". This will prevent setting out like "Naomi" in the Bible and coming back empty. It is important to know where God wants you to be. And honestly, if God is leading you there; he will guide you, keep you, make a way for you there and establish you.
My final note to young ladies is that "you cannot walk this path without a mentor, look around you and reach out to women ahead". Plus, you don't need to have only one mentor. You can have mentors in different areas of life – you can have a mentor academically, spiritually, socially and in other aspect. You can as well find a role model(s) that have one or more areas of life – that you desire – well compact together, move close to them and ask how they can mentor or guide you. Most especially be prayerful, ask God for guidance and do not jump at every "opportunity" that comes your way. Because it is not every door that opens, that we should walk into. Please be cautious; I am not saying live in fear but be as vigilant as possible.
Also, be where God want you to be always. You – in your human understanding – might want to travel to an European country and God wants you to be in another African country where He has a plan for your life. I need us to know that God created us for his pleasure, and it is in the land He wants us to be or takes you to, that you will flourish in. There are people doing better in some African countries than those who are in European countries. You will be surprised at this because it is the land that God has made to be flowing with milk and honey for them.
I want to thank you and the young MWAN team for this opportunity to share about my life's work. I am happily married with three biological kids, other adopted sons and daughters, as well as spiritual mentees. I also thank God for the privilege to impact and keep impacting lives with what He has placed in my heart to do. I appreciate you for interviewing me and pray that God will continue to guide every one of us. God bless and thank you.
MM/MWAN YDF: Thank you as well ma for taking time out to share your experiences with us and allow us learn from the wealth of your knowledge.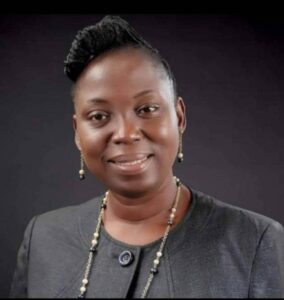 About Dr O. M. Fatungase:
Dr Oluwabunmi Motunrayo Fatungase is a consultant Anaesthetist with over 17 years post fellowship experience.  She is passionate about palliative care and pain medicine, with special interest in Paediatric and regional anaesthesia. Beyond the clinical practice, she loves to mentor, coach and offer free community volunteer services, such as organizing free medical outreaches for communities, religious, non-governmental and other organisations. She belongs to many professional and corporate associations including NMA, MWAN, MDCAN, ICS, SSPN, HCPAN to mention a few.
Following her role as acting Chief Medical Director (CMD) of the Olabisi Onabanjo University Teaching Hospital (OOUTH), Sagamu, about a year later (In 2022), she was appointed the substantive CMD of the stated owned tertiary health institution. Prior to this, she has functioned as Head of the Anaesthesia and Intensive care Department in the teaching hospital and also the Chairman Medical and Advisory Committee (CMAC) of the hospital.